Views
Snowdrift Shrine
From Golden Sun Universe
Snowdrift Shrine (イミル北西の雪山, Snowy Mountain Northwest of Imil) is located at the northernmost point of Angara, to the northwest of Imil and Mercury Lighthouse. Its entrance is in a mountain ridge on the west coast, which can be reached by foot after landing on a beach on the east coast. It can only be entered once Himi uses the Search Psynergy. Its main feature is a sheer wall of snow which must be descended at the correct points in order to access a number of treasure chests, as well as reaching the central room where the Umbra Goggles are found.
Walkthrough
[
edit
]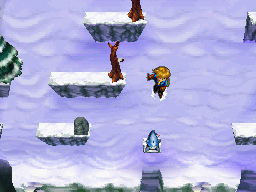 Move to the left and jump over to the north. Take the far left "ladder" and go up. Here head up and to the right. You'll see a Djinn spot you and try to escape. Slide down the same slope it did, and try to veer yourself into landing right on top of it, which will knock it to the ground level, allowing you to fight it to acquire the Mercury Djinn Geyser.
Now go up the far right "ladder", all the way to the top. Jump down the first slope you come to and get on the ledge. Jump off and aim as far right as you can to reach another ledge with a Mist Potion in the chest.
Go back up and down the second slope from the right. Go down to find a chest with some Crystal Powder. Go back up and this time use the FAR left slope. Here cut a HARD left and aim for the big slope to drop down to another treasure chest with a Phaeton's Blade. Slide down the ramp here and move a bit right and down to find another chest, which contains a Mimic that rewards a Hard Nut for its defeat. Go all way the back up the "ski range" (Retreat can be used to cut down some travel time) and this time aim for the middle green arrow, just left of the Crystal Powder chest. Once you hit it (which is easy enough), climb down and use the glyph to find a treasure chest with the Umbra Goggles inside. Head back out and feel free to leave this area.
Enemies
[
edit
]
Enemy Formations
Group 2: White Wolf x1, Grisly x0-1
Group 3: Skinwalker x1, White Wolf x0-2
Group 4: Skinwalker x1, Grisly x2
Collectibles
[
edit
]