Views
Goma Highlands Road
From Golden Sun Universe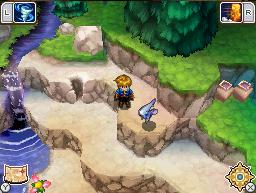 The Goma Highlands Road (ゴマ高原道 Goma Plateau Road) is a dungeon-style location in Golden Sun: Dark Dawn. This place features some flower and gondola puzzles, items, and the Jupiter Djinni Gust. The area is apparently meant to make the player familiar with the use of the Whirlwind Psynergy before a cutscene in Carver's Camp where Whirlwind is required to save a child there.
The Goma Highlands Road stretches between and area south of Patcher's Place to Carver's Camp, and has several exits. It appears to be a site of logging for the lumberjacks of Carver's Camp. The area is littered with ancient gondolas. The gondolas travel along wires after being powered by fire, and ease travel though the road. The area is a common site for wild wind blossoms, which can be used as mid-air platforms after being lifted by the wind. Breezes blow through the area to activate the flowers occasionally, though the Whirlwind Psynergy also suffices as an activation method.
Walkthrough
[
edit
]
Head up in here to see a Djinn playing around with the weather and then heading north.
Head up the steps and jump over to the sign. Here, use whirlwind on the flower to the right of the lower tree, so we can climb the tree and then jump onto the higher ledge with the flower. You'll be up with a bunch of stumps. Well, these are lumberjacks! You can ride on the gondola nearby by sitting in it and blasting it with a fireball. Ride it across the screen and jump out to find a Mint in a chest. With no Djinn in sight, move onto the northern exit.
Here push the log up to get by, than jump the stream to the north and push that log west. Jump over to where the log was and push the third log south, which will let you push the original log back down.
Now push the two eastern logs again (the only ways they can go) then you can push the western log east. Watch if fall down the cliff and make you a road. Use that road to jump the river and find a tree nearby with a treasure chest. Use Whirlwind on the flowers east of the tree (you can get them both up in the air with one shot) so you can climb the tree and reach the chest for a Themis' Axe.
With no obvious way to get the Djinn, move forward into Carver's Camp.
Enemies
[
edit
]
Enemy Formations
Group 4: Drone Bee x1, Rat x0-1
Group 5: Ape x1, Gobling x1
Group 7: Ape x1, Gobling x1, Rat x1
Collectibles
[
edit
]

Gust: a Jupiter Djinni found near the end of the Goma Highlands Road. The player must enter the upper path via Carver's Camp to find it.

Themis' Axe: found in a chest. Accessed by climbing a tree and jumping across wind blossoms.


Mint