Views
Hard Mode
From Golden Sun Universe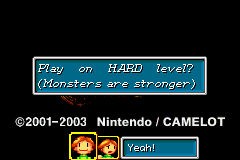 Hard Mode is one of two special gameplay options unique to Golden Sun: The Lost Age. Hard Mode exists only for optional challenge value, as there are no extra rewards for playing through or completing it.
Mechanics
[
edit
]
Hard Mode can be accessed when a player begins a new game while having at least one Clear Data file. When starting a new game, Hard Mode will be offered as an option alongside Easy Mode and standard gameplay. In Hard Mode, while the statistics of the player's party are the same as any normal game, enemies will have their normal HP stat multiplied by 1.5 and their Attack and Defense multiplied by 1.25. Boss battles in particular are sharply more challenging.
Players are advised to be extremely knowledgeable about gameplay when starting a game in Hard Mode. One mistake can sometimes result in defeat. Players are also advised to use a password or link cable in order to access all possible Djinn and to ensure that Isaac's party is at high power.
Interestingly enough, the only enemies that do not get as significant a challenge boost as others in Hard Mode are Dullahan and, to a lesser extent, Valukar, both of whom are optional end-game bosses. The game's code allows a maximum of 16,383 HP for any enemy, and, because Dullahan ordinarily has 16,000 HP, this restriction keeps his HP from being increased as dramatically as for other monsters. Like Dullahan, Valukar's 13,000 HP prevents him from receiving the full HP increase, though he does receive a greater increase than Dullahan does. Notably, any monster spawned mid-battle (such as the balls Star Magician summons) retains its original normal-mode stats.