Track
From Golden Sun Universe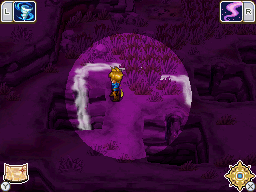 "Sniff out a faint smell."
Track (スメル, Smell) is a Jupiter Utility Psynergy found in Golden Sun: Dark Dawn. It is unique to Sveta and costs 1 PP per use. Its encyclopedia entry reads as follows:
"This Psynergy heightens a user's sense of smell, making it possible to detect faint odors and track them back to their source."
When used, Track allows the player to see scent trails left by other creatures or objects. The screen darkens and any scents become visible as a trail of purple smoke. The screen will remain darkened and the scents visible until the player activates the menu, leaves the room, or after a certain amount of time. In addition, Track can detect hidden items, which are marked by small circular scent trails. Its main uses are to allow the player to navigate through the Teppe Ruins, and to complete a ritual at the end of Apollo Ascent.