Views
Angara Cavern
From Golden Sun Universe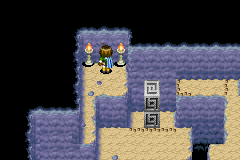 Angara Cavern (アンガラ大陸のどうけつ, Angara Continent's Grotto) is a cave in northwestern Angara, north of Loho, that can be reached in Golden Sun: The Lost Age.
The cavern is the home of the Haures summon tablet. Though the cavern can be reached as soon as the player enters the Great Western Sea, the summon cannot be accessed until after The Reunion at Contigo. At that point, the player will gain the Carry Utility Psynergy necessary to solve the cavern's puzzles.
Walkthrough
[
edit
]
At the beginning of the cave follow the path until you reach the fourth room. Hop to the bottom pillar and push it once to the right and use Carry to move it one space up. Then hop to the stairs, climb up, move the pillar to the left, and use Carry. Then go back down and use Carry on the pillar to move it left and on top of the other pillar. Once you get Haures, you can use it in battle for three Venus and two Mars Djinn.