Views
Nihan
From Golden Sun Universe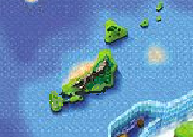 Nihan is an island found in Weyard's Eastern Sea. It is themed to correspond with the real-world Japan; the name Nihan is a take on the name "Nihon", which is the casual name native Japanese speakers use to refer to Japan itself. Nihan's Encyclopedia entry reads as follows:
"This eastern island was once home to the village of Izumo before it was flooded. The surviving villagers founded Yamata City. The dominant feature of the island was Mount Mikage (also called Gaia Rock), which was home to the Great Serpent."
Location and Geography
[
edit
]
Nihan is located to the east of Angara, particularly the Morgal and Ei-Jei regions. Nihan's only coastline is on the western side of the island. A mountain range runs down the middle of the island, separating Izumo and Gaia Rock in Golden Sun: The Lost Age. Gaia Rock, a source of Venus Psynergy, is located on the eastern portion of the island, and is revered by the locals, who refer to it as Mount Mikage.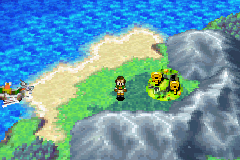 In The Lost Age

[

edit

]
Nihan first appears in Golden Sun: The Lost Age, although it is not named as such. It is the site of the village of Izumo and the dungeon Gaia Rock, and is led by Uzume. The island is explored during Felix's travels during the eastern sea. The island was home to a large Serpent, which normally resided deep in Gaia Rock. Occasionally, it would travel to Izumo and wreak havoc, which caused the citizens to institute a lottery among Izumo's maidens to find a sacrifice. Felix, with the help of Susa, Uzume's brother, would defeat the serpent, restoring peace to the island. At the same time, Felix would learn the Sand Psynergy, which was necessary for his quest.
In Dark Dawn

[

edit

]
After the Golden Sun event, Nihan was buffeted by an enormous tsunami, which destroyed Izumo. The citizens, led by Uzume, relocated to Yamata City, making it the isle's new largest settlement. Nearby islands have also risen up from the seafloor, making the island part of a somewhat large chain. Gaia Rock is no longer a visitable location, but it is mentioned by some of Yamata's citizens, and the area immediately south of it is home to a randomly encountered Mars Djinni, Sizzle. Periodically, a large whirlwind blows around the seas surrounding the island. Should a ship become caught in this whirlwind, it would be transported far from Nihan, to Otka Island.
Yamata, and thus Nihan, as a whole, is ruled by Susa and his wife Kushinada, who became king and queen following Uzume's sudden death. The island as a whole is unaffected by the Grave Eclipse, leading it to become one of the area's visited by Matthew's party during their quest to reverse the Eclipse.
Enemies
[
edit
]
The Lost Age
[
edit
]
Dark Dawn
[
edit
]