Harun Island
From Golden Sun Universe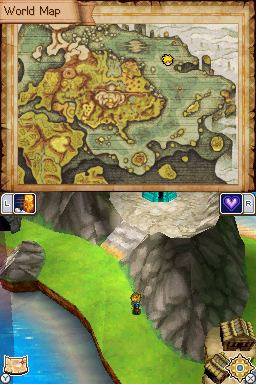 Harun Island (ハリン島 Halin Island) is an island located in Weyard's Otka Sea. It is a visitable location in Golden Sun: Dark Dawn.
Harun Island has one known settlement, Harun Village, which is home to Ikan the storyteller. Other important locations include the Harun Channel, where the Coatlicue summon may be found, and Warrior's Hill, a dungeon which contains the Third Eye.
Harun Island is visited because the shadow of the Grave Eclipse overlaps its far western portion, while the rest of the island is unaffected. This allows the heroes their first look at the eclipse from the outside.
Enemies
Enemy Formations (East)
Group 1: Armored Rat x1-2
Group 2: Fighter Bee x1-2
Group 3: Hobgoblin x1, Fighter Bee x0-2
Bestiary of Harun Island (West)
Monster Name
LVL
HP
ATK
DEF
AGI
EXP
Coins
Weakness
Drop
Drop Rate
Ravager
30
370
340
134
138
1,083
105
Vial
1/16
Wargold
30
261
321
96
176
649
150
Sleep Bomb
1/8
Enemy Formations (West)
Group 2: Wargold x1-2, Ravager x0-1
Trivia