Fandom:Golden Sun Syndicate
From Golden Sun Universe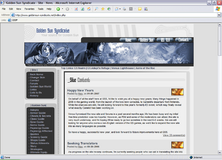 Golden Sun Syndicate was formed in June 2003 when two seperate Golden Sun websites merged: Isaac's Revenge and Golden Sun Haven. Isaac's Revenge was run by Max, while Golden Sun Haven was run by Jadoku. In the months after the release of Golden Sun's sequel, The Lost Age, it became apparent that two sites doing the same content was a waste of valuable time on the part of both webmasters, so they decided to merge into one larger site where they could work together and create a great source of information about both games. In September 2003, Jadoku decided it was time to move on in life, and left the site in Max's hands. Things in the Golden Sun community were slow, but GSS was updated regularly for a brief period before school overwhelmed Max's time. In late October 2003, Max asked for some help and Marlin Beta from Aerie of the Roc (formerly Marlin Gaming) came to the rescue. Marlin helped to create some new Lost Age content and also a long-overdue links page. The Golden Sun community is currently in a downward spiral, but as long as people continue to visit GSS, the site will remain online. On a side note, a project has been started to make a subsite, or minisite connected to GSS, but based off of Advanced Wars. Led by Mr. T (no, not the real Mr. T, this one's a member on the forums), construction on that project has halted at the moment, but those working on it expect to continue progress soon.
Golden Sun Syndicate Forums
[
edit
|
edit source
]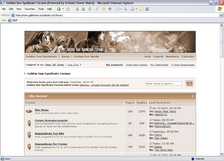 Golden Sun Syndicate also contains a popular forum, called Golden Sun Syndicate Forums. To date, this forum has 1700 members. The forums and Main site are schedueld for a revamp, though a specific time frame has yet to be appointed. However, for the members who are active there, many find it hard to leave. Some more than others. A handful claim that Max is using mind control somehow, others claim that aliens are slowly eating away at their brains. The more sensible, however, simply believe that the forums are a great community with mature, friendly people.
Golden Sun Syndicate Forums Version 2 (GSSF V2)
---
The new version of GSSF is run on the awesome Invision Powerboard 2.2. The upgrade includes an RP forum, a more streamlined forum overall, and a new member group called "Veterans" which is obtained once you reach 1500 posts. The Veterans get more PM Storage, but that's about it.
Golden Sun Syndicate Site Revamp Project
---
As of now, certain members of GSSF have volunteered to do data entry and other such things as part of a project to "finish" GSS's main page. The main page will have a new style (different from the current four), and contain a larger database of information about the two games. Everything from Walkthroughs to Cheats, Weapons to Psynergy, it'll all be there. The completion of this project will hopefully make GSS one of the best archives of information on the two games on the internet.