Views
Grave Eclipse
From Golden Sun Universe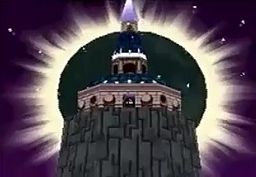 The Grave Eclipse is a phenomenon that plays a central role in Golden Sun: Dark Dawn. It is brought about by the activation of Eclipse Tower.
The Grave Eclipse emits a dark aura which envelops most of Angara. Unlike normal darkness, the Eclipse causes thousands of vicious monsters to appear in the affected areas, ruthlessly slaughtering anyone who approaches them. The Grave Eclipse can only be activated by first using a Magma Orb to turn on the Alchemy Dynamo hidden deep within the Belinsk Ruins. In turn, the Alchemy Dynamo unseals Eclipse Tower, which triggers the Eclipse by absorbing Sol's light.
The ruins were sealed up years before the game begins, to prevent anyone from entering them and activating the Alchemy Machine. Matthew and his friends are tricked into retrieving the Magma Orb from within the Mountain Roc by Blados and Chalis for the purpose of activating the eclipse. At the Alchemy Dynamo, Blados and Chalis arrive with Arcanus to distract Matthew and co. while Arcanus manipulates Ryu Kou into placing the orb onto the pedestal, thereby triggering what becomes known as the Grave Eclipse.
Almost every city under the Eclipse's shadow suffers some sort of devastation as a result of the Eclipse-empowered monsters. Some cities, such as Belinsk and Kaocho, are shown to have high death tolls. However, three cities, Harapa, Passaj, and Ayuthay, are able to come through the Eclipse mostly unscathed. Passaj's Alchemy Forge creates a fortress around the city that prevents monsters from coming in, while the people of Ayuthay hide in the underground portion of their city. The people of Harapa are saved thanks to the water-driven lights of their town, as well as the town's tough walls.
It is eventually revealed that Eclipse Tower can only be deactivated by use of the Apollo Lens, a machine located at the Apollo Sanctum. The lens can only be activated by use of three orbs: the Blue Orb, Red Orb, and Yellow Orb. Matthew and co. eventually make their way to the sanctum, place all three orbs in their pedestals, and reactivate the lens. After the final battle, they use the lens to deactivate Eclipse Tower, thus putting an end to the eclipse.
Arcanus seems to want the Apollo Lens reactivated and used to end the eclipse, despite having a hand in starting it, though the reason why is unclear. Also after the final battle, when Matthew attempts to climb up to the lens, he warns him not to keep trying, and after a couple lines, nothing is heard from him for the rest of the game.
[edit]
Enemies associated with the Grave Eclipse
Enemies associated with the Grave Eclipse
[edit]
Trivia
Battles set within the Grave Eclipse use different music than normal battles.